We Recommend Vimeo Plus
With a Vimeo Plus account ($10/month or $60/year – purchase at the Vimeo website) you can set your global privacy policy such that videos are not public, can only be embedded on the domain of your choice (like snowproportal.com), and allow your clients to download them right from Vimeo. No need to upload them to your Dropbox account (that is getting full) or try to email a large video file – not gonna work!
Shoot video (when appropriate and with permission) then upload them right from your mobile device straight to Vimeo. Then simply create a client page on my SnowPro Portal site (from your phone – yes!) and drop the Vimeo link right on the page. Then send your client an email with a link to their custom page on your SnowPro Portal site – shortly after the lesson is over.
Talk about "awesome" customer service. Not everyone does this for their clients. But YOU can right now!
Get a SnowPro Portal Site Get a Vimeo Plus Account
Below is an example of "best practices" for your Vimeo account settings.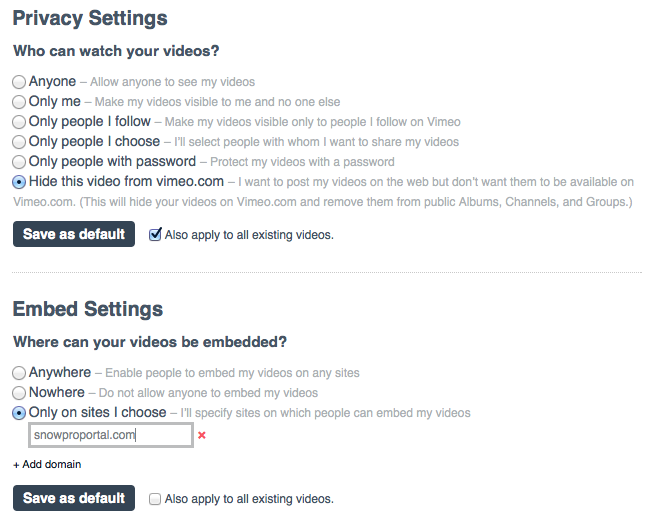 About Vimeo
In 2004, Vimeo was founded by a group of filmmakers who wanted to share their creative work and personal moments from their lives. As time went on, likeminded people discovered Vimeo and helped build a supportive community of individuals with a wide range of passions. Today, millions of people from all around the world enjoy Vimeo.
The Vimeo Plus account allows for domain level lock down of embedded videos (like the one below). This video is permitted to be embedded on this website, but no where else. Pretty cool and a "best practice" when sharing videos with your clients that they might prefer are not posted on the web for general consumption.
Still not convinced?
Or, if you are ready …
Vimeo